You've probably googled "Skateparks near me" and are hoping to find your closest skatepark. That's a great start, because you're in luck, our handy map below will show you all the skateparks that are near you.
Skateparks are an excellent place to learn to skateboard. They offer an excellent safe environment where you know you'll be welcome and don't risk getting chased by security guards or the police, which can be a concern when skating local spots such as colleges or parks.
Skateparks are also a fantastic way to make friends and meet new people. The encouragement and skills/advice you get from other skaters can also really help you to learn new tricks and also boost your confidence.
How to Find Skateparks Near me
if you're wondering how to find your best local skatepark, the easiest way is probably with a quick google search.
If you live in a large town or city, the chances are there will be one reasonably close by.
A google search for terms such as "skatepark near me", "skateparks near me", "skate park near me", "skateparks nearby" or "skate park nearby" should return some good results.
If just googling skateparks near me didn't return anything nearby, try our skateparks near me skatepark locator.
Skatepark Locator
You can also use our skatepark locator tool below which uses google maps to locate your nearest skate park;
Skatepark Directory
We have an extensive directory of skateparks for all US states. Take a look below:
What makes a good Skatepark?
This question will depend on your personal preference.
Some will much prefer skating outdoors, while others will prefer indoor skateboarding.
You'll also want to be around nice people, so finding a park that has a good crowd of skaters is important.
Types of Skatepark
You will likely be aware of the terms street and vert skateboarding. These terms can loosely be associated with the types of skatepark, indoor and outdoor.
While street skateboarding tends to be (as the name suggests) based on skateboarding in the street, the term can also be applied to skateparks.
Outdoor skateparks are more likely to be set up and appeal to street skaters, due to their location and the type of obstacles and equipment they have.
Indoor skateparks tend to be more ramp focussed and as such are more suited to vert skaters.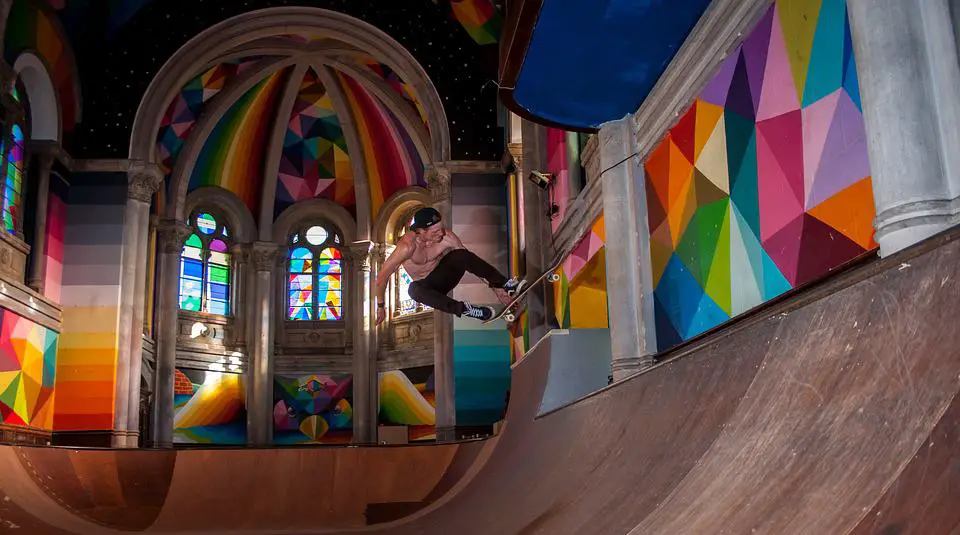 Indoor Skateboard Parks
Indoor skateparks tend to be constructed from wood. You'll usually find a range of ramps, rails, bowls, quarter and half pipes.
They're usually privately owned and operated, so there will most likely be an admission fee. These costs can soon add up, so see if they offer bundles or multi-session discounts.
Indoor skateboard parks will much more likely have staff, they are therefore probably a safer environment for children as staff will likely have medical training and first aid equipment. They may also insist that you wear a helmet, which is a really good idea.
Another great thing about having a local indoor skatepark is that they quite often have a skate shop or at least some basic supplies. This can be really handy if there are no other skate shops nearby.
You may find that lessons are available from indoor parks too, which can be helpful if you are just starting to learn to skateboard.
Indoor skateparks also offer the ability to skateboard regardless of the weather, which can be a huge plus depending on the climate of your local area. Skateboarding in the rain generally sucks.
Outdoor Skateboard Parks
Outdoor skateparks tend to be concrete, they'll usually have a bank, a rail and possibly a bowl. They'll unlikely be supervised and will probably be government owned. These are probably more suited to the older skater because of this.
A huge benefit of outdoor parks is that they are completely free to access.
Something you might want to consider when looking for an outdoor skatepark is if it is lit.
Some skateparks have outdoor lighting which can be really helpful for those extra long sessions that go into the evening, or for darker winter nights.
Just remember, safety is important. Don't skate if you can't see what you're doing and remember outdoor parks are accessible to anyone and there can sometimes be trouble, so try and stick together with a group of friends and keep an eye out for each other.
Should I bother learning to skateboard if there aren't any parks near me?
Absolutely! You most definitely shouldn't give up on the idea of learning to skateboard just because there isn't a park nearby. Skateboarding is a very environmental sport, you can make the most out of things in your local area regardless of if it has a skatepark. Gnarly stair sets, benches or even just a flat bit of land. Some of the most influential skateboarders of our time started skateboarding in the street, look at Rodney Mullen as an excellent example of a skater who used his surroundings to the best of their ability and is widely renowned for creating many of the popular tricks done today.
Summary
Hopefully, you've been able to find an excellent skatepark nearby.
Remember, if you don't have a local skatepark please don't give up on the idea of skateboarding.
There are plenty of tricks you can learn on flat ground, and who knows if there's enough interest a skatepark may soon open up in your area, or perhaps you'll build your own.