Carrying your cell phone around with you is pretty much a necessity, but how do you keep it safe whilst out adventuring?
Whether you're skateboarding, out for an intense mountain bike session or hitting the great outdoors bouldering or rock climbing, keeping your phone safe and secure can be a challenge.
But the WTFactory thinks they've solved that with their SlimClip Phone case for iPhone.
Official Store: http://thewtfactoryshop.com/
Disclaimer – WTFactory provided me with a couple of free review units of their iPhone 6/7 SlimClip cases, but everything in this review is my own opinion and hasn't been influenced by WTFactory. 
No products found.
Why might you want a SlimClip Case?
Modern phones have a plethora of features, internet & GPS access for finding that next awesome spot, high-quality cameras for capturing those special moments oh and you can text or call people if you end up in a scrape.
They're also really expensive, so a case is pretty much a necessity to keep them safe.
Most phone cases aimed at the outdoor market aren't exactly what you'd call stylish, they tend to be pretty bulky and in all honesty highly impractical.
For those living an active lifestyle who want to carry their phones with them, the only practical option has often been to look at alternative solutions to keep them securely attached.
Usually with either an armband or some kind of running belt seemingly the best solution.
And that's where SlimClip comes in, with their interesting take on a stylish phone case, combined with a secure clip.
Slim Clip Case Review
SlimClip excels at providing a really good looking case, available in a range of colors, that adds minimal bulk, and adequate protection.
Yet it also offers the standout feature of an inbuilt (and very secure) clip to attach it to your clothing, negating the need for any other accessories to keep your phone attached.
Let's cover some of the main features;
Design
The design is very minimal. It's what you'd expect from a premium phone case, hard plastic but with a subtly textured grip to keep it secure in your hand.
Available in a range of colors, the Red and Blue versions I was provided really stand out.
Protection
Look, if you drop your phone (even if it is in a case like this) there's going to be the possibility that the screen will smash.
Now, this case doesn't offer any form of screen protection, but the sides do protrude ever so slightly, meaning if it lands face down the case may absorb some of the damage.
But that isn't what the main selling point of this case is, it's a decent all-round case, that will keep the body of your phone in good condition while still allowing easy access to all the ports and buttons.
Clip (ability)
This is what you've all been waiting for.
The unique selling point of this case is the inbuilt clip.
I'm not sure what I was expecting, but the design is so simple it's clever.
The clip is basically a cutout in the back of the case, thus adding no additional bulk to the case.
Because of this design, the clip is also really strong.
You can jump about, skate, ride or just go all out and this clip isn't going to let you down.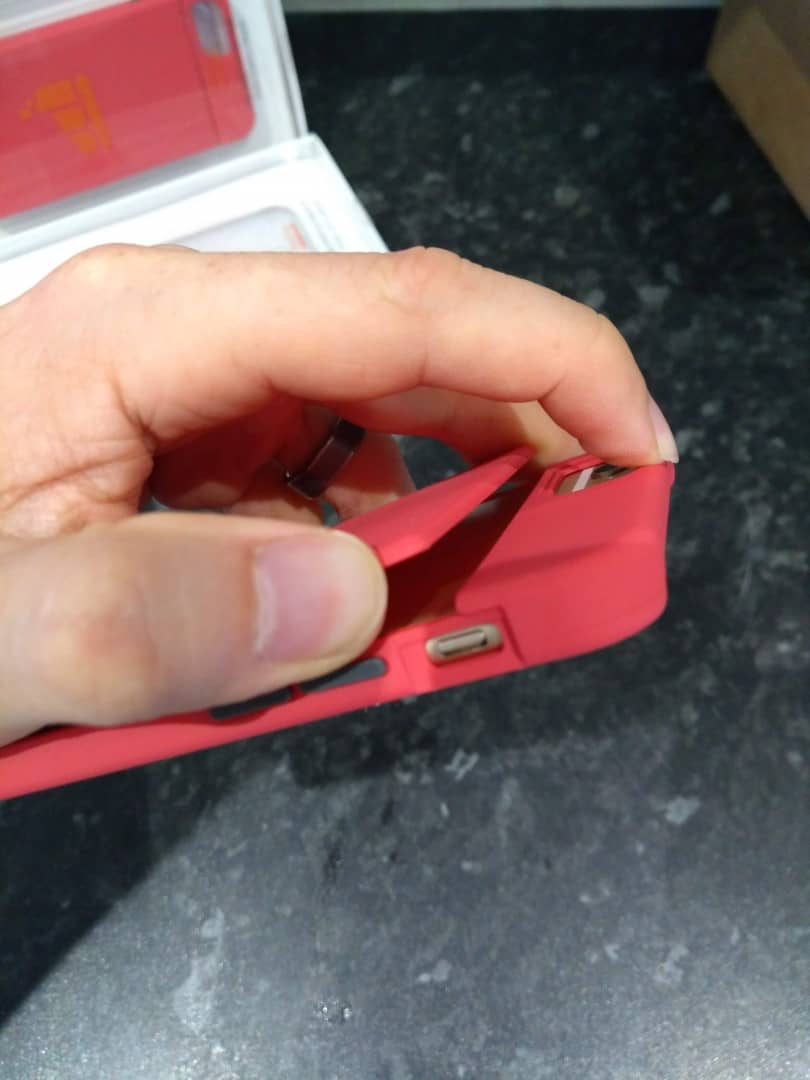 Overall Summary
Should you buy the SlimClip Case?
You're probably going to buy a phone case anyway and if you were thinking about buying an armband or a belt, then why not just give this a try instead.
It offers all the benefits of a high-quality phone case, with the practicality of an inbuilt clip to keep your phone safely in place, regardless of what extreme sport you might be doing.
PROS
High quality phone case
Looks awesome
Adds minimal weight
Inbuilt Clip
CONS
Offers minimal protection for screen

Only available for iPhone
No products found.